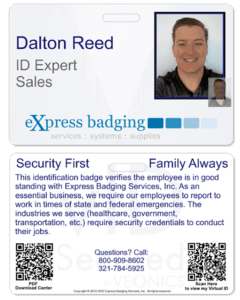 Best Ways to Contact Me:
Thanks for visiting my contact page. I'm here to help! I'm an ID Expert regarding all things photo ID with over five years of experience.
I can help you get your badging project completed on time and correctly the first time. This includes helping you decide if we should print or you should print your photo ID badges.
More about Dalton
I've been with eXpress badging™ since April 2018 and would like to consider myself an expert in the field of ID badge printing services, systems, and supplies. I spent over two years in our production department, printing and shipping badges for customers all over the country. I really enjoyed working with customers, which led me down the sales path! I specialize in assisting customers that are both large and small, basic and complex. No two customers are ever the same!
Whether or not you need ten badges for your small business, or your organization is looking to rebadge 15,000 employees across forty locations over the US, I'm here to make the entire process as easy as possible for you, and your team. Beyond that, our proven process ensures that we complete your project correctly, the first time, and on time.
Outside of work, I love to surf, skate, golf, and spend time with my family! I'm also very proud to be a season-ticket-holding Miami Dolphins fan!
I look forward to the opportunity of working with you and your team!